The Expeditioners and the Treasure of Drowned Man's Canyon
by S. S. Taylor/Illus. by Katherine Roy
Book Description:
Computers have failed, electricity is extinct, and the race to discover new lands is underway! Brilliant explorer Alexander West has just died under mysterious circumstances, but not before smuggling half of a strange map to his intrepid children—Kit the brain, M.K. the tinkerer, and Zander the brave. Why are so many government agents trying to steal the half-map? (And where is the other half?) It's up to Alexander's children—the Expeditioners—to get to the bottom of these questions, and fast.
Review
:
Honestly, this was one of the best, most interesting steampunk adventures I've read yet. I think, primarily, because it wasn't *just* steampunk. This is dystopian steampunk. That means that in this world, we've gone beyond the computer age to a period where all that technology was distrusted and society withdrew back to steam power! Very, very cool conceptually.
This book has a heavy focus on family relationships, gadgets, and mapmaking/reading. Each of the West children has a different "specialty." M.K. can fix any type of machinery. Zander can almost commune with animals. Our main character, and also the middle sibling, Kit, can read maps and solve codes, having learned from their Explorer father. In this world, too, the Explorers, like Mr. West are on the hunt to map out and claim new lands. They joke about the time when we were convinced that there were only seven continents!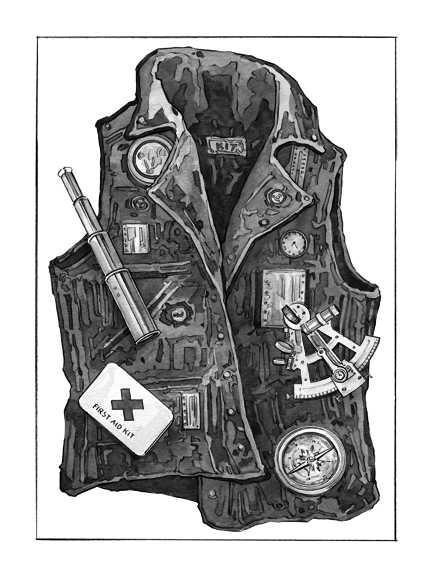 This book was exciting and intriguing and once I started reading, I did not want to put it down. Not only were there great descriptions of new creatures and awesome steampunk technologies, but the illustrator did an amazing job and every chapter there was at least one picture like this one of a typical Explorer's vest, full of cool gadgetry. There were full page illustrations and little ones sprinkled within the text. The book cover also comes off and on the reverse side is a full character sketch of each of the kids and the friend that eventually goes hunting for the secret cavern with them.
This book tackled a great adventure, built an awesome and intriguing world, and also threw in a couple of great moral lessons. I cannot WAIT to read the next book in the series!!